The show is held on four fields known as the Lawns to the south of Denmead. Denmead was one of the staging points for Allied troops during D-Day.
Address:
The Lawns,
Forest Road,
Denmead,
Hampshire
This is not a postal address. Please do not attempt correspondence via this address, we will not receive it.
what3words: ///potato.passwords.chain
Lat/Long: 50.89590, -1.05967
Easy to find from Junction 3 of the A3(M) as it is signposted with AA direction signs.
Closer the show field, you may see Overlord Show signs like below.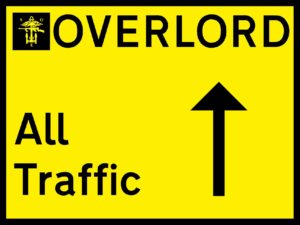 The fields have no official postcode but if you put PO7 6HS in your satnav this will get you to 1 Little Mead which is immediately opposite the entrance. For other mapping directions please use this link.
During show opening times there will be people at the show entrance directing you to the car park – PLEASE DO NOT STOP AT THE ENTRANCE – follow the marshals' and cadets' directions to a vacant place. If you are disabled and have difficulty walking there is a parking area for blue badge holders closer to the showfield entrance.
If you have any change left when leaving the show no doubt our enterprising charity collectors will be pleased to accept it as you leave the car park!
By Rail
The closest station to the show site is Havant Station. It is approximately 5 miles from the show field.
By Bus
For accurate bus information you should check Travelline To PO7 6HS.