40s Fashion – essential for the new image of the Overlord Show
New to the 40s, no problem… you don't have to wear a uniform, spend a fortune on hiring a costume or buy the genuine article, here's how to achieve the look:
Have a stroll around the charity shops or on one of the internet selling sites and find a floral, button front dress, team it with a pair of low heel rounded toe shoes or lace-up flats with socks – stockings were scarce in wartime so ladies took to wearing ankle socks. A hand knitted cardigan, small brimmed hat, plain 'Kelly' style handbag, plus a shopping basket, this makes you the wartime housewife out buying rations for your family.
Perhaps a tailored suit, tweed or a muted colour, matching bag, shoes and trilby style hat for the country lady on her way to help out at the local WVS. Similar to a fitted plain jacket and tweed skirt, matching accessories. Gloves were 'de rigeur' and matched the outfit.
A pair of jodhpurs or dungarees, short sleeve shirt, headscarf tied around the head and some sensible brown lace-ups… voila! you're a land girl.
Wrapover 'pinny' and hairnet/snood/scarf and you can be the local 'lady what does' – with so many household staff going off to war charladies were in demand in the big houses.
Borrow hubbies or dad's boiler suit, belt around the middle, again the sensible lace-up shoes and a tied headscarf… you're now 'Rosie the Riveter' working on Spitfires at Wadhams, Waterlooville.
Hair was put into pin-curls and 'Victory Rolls' were popular, longer hair often put into a snood to keep it tidy. Jewellery was understated, only a single string of pearls or similar during the day and brooches usually in the lapel of a jacket or coat.
Girls wore summer dresses, smocking was popular and in plaids, cottons and often matching hand knitted skirts and cardigans for winter. Lace-ups, sandals and ankle socks. Boys wore short trousers, usually until they were fourteen and left school. Lace-ups, long socks (usually grey) and a snake buckle belt – so hard to find nowadays – maybe a jacket or school blazer and school cap or a flat cap.
Gentlemen would be wearing suits/jackets with wide lapels and turn-ups – later in the war, these were banned as material became scarce. Braces, shirts tended to be white and shoes sensible, again a rounded toe and brogues were popular. The iconic trilby was the hat of choice. Office workers carried briefcases or small suitcases – similar to the ones child evacuees took on their elongated trip to safer areas for the duration of the war.
The choices are endless… try putting '40s clothes – images' into your search engine, you'll like what you find. And if all else fails, come along to the show anyway, you'll love what's there and always friendly advice to help you with your new image.
Most importantly…
Never go out without your gas mask. A small box, approx 20cm x 15cm x 15cm covered in brown paper, string attached to wear over the shoulder – you never know when there's going to be a gas attack. Lots of ladies actually used theirs to carry their everyday items around, leaving the actual mask at home!
By Chris Allaway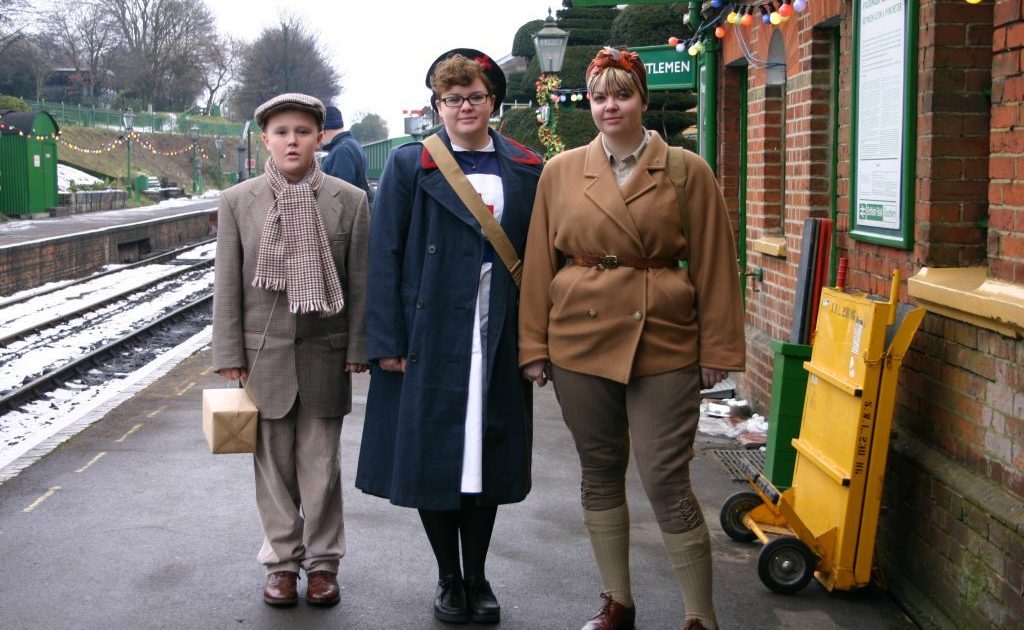 N.B.
The Overlord Show team would like to emphasise that the 40's theme is one aspect of the show which we have carried out in the past, but has been forgotten in recent years. We are simply looking to revive this aspect. We acknowledge that a significant number of vehicle exhibitors are not from this period, and we would like to make it clear that the objective of the 40's theme is not one which is designed to exclude exhibitors with more recent vehicles but to encourage the public to participate.
Reposted from 2017.
0
0
webmaster
https://www.overlordshow.co.uk/wp-content/uploads/2017/07/Overlord-Show-SOE-300x93.png
webmaster
2018-03-10 09:00:35
2018-03-05 20:55:47
40s Fashion – essential for the new image of the Overlord Show